Stop War on Migrants ! - 5 to 8 of February in Berlin - Call for support STOP WAR ON MIGRANTS !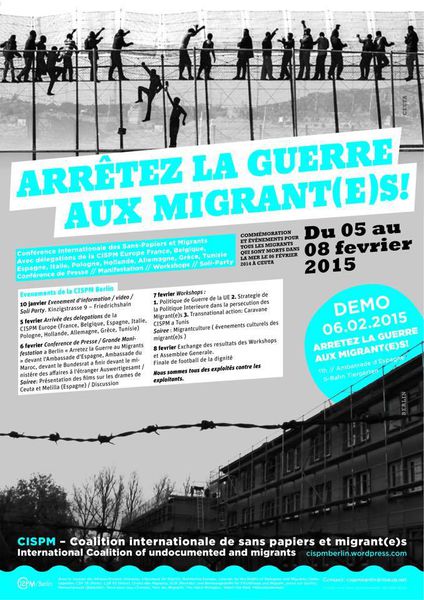 Demonstration in Berlin 6th of February 2015 - One year from the Ceuta Massacre
12 am from Spanish Embassy - Lichtensteinallee, 1 - Tiergarten

- 7th of February Workshops on EU War policies,
- 8th of February Assembly
for a transnational Solidarity Platform of Sans-Papiers, Migrants and Refugees.
10 am Mehringhof - Gneisenaustrasse 2 - Kreuzberg

Support the Action Days of the Berlin CISPM with the Crowdfunding:

https://www.betterplace.org/en/projects/24797-support-our-action-days-in-berlin-from-5th-to-8th-february-2015

Commemoration events :
The 6th of February 2014, more migrants were trying in collective action to overcome the border of the enclave of Ceuta across the sea. The Spanish Guardia Civil, fired on the swimming Migrants with rubber bullets and tear gas. At least 15 people were murdered that day, and 50 all together were missing. Dozens more were injured and illegally pushed back to Morocco. Here you can watch the video of the protest and mourning demo in Berlin of February 2014 :
https://vimeo.com/8777034

One year after the CISPM/Berlin calls for an INTERNATIONAL DEMONSTRATION on
6 of February 2015 in Berlin: Stop War on Migrants! at the external borders as well as in the interiors policies.
Workshops on EU War on Migration on
7 of February 2015 on the proposed Agenda: 1.
- EU War diplomacy.
The international agreements: Dublin 3, Deportation's bilateral agreements, Militarization of border control. EU humanitarian rethoric, the "See rescue operation" and the Visa politics. Plaint against the EU for the deaths in the sea.
- 2. Interior policies of persecution: Different EU Immigration Laws, Structural exploitation of illegalized Migrants' work, Institutional strategies for the deprivation of Rights: the Duldung in Germany, Homelessness in Italy. Lampedusa in Hamburg, Lampedusa in Berlin.

8th of February meeting for the consolidation of a Transnational Action Platform of Sans-Papiers Migrants and Refugees.

CISPM - International Coalition of Sans-Papiers and Migrants: Voix des Migrants, Droit de Migrants, Caravan for the Rights of Refugees and Migrants

With the support of: Afrique Europe Interact - KUB - Borderline Europe - Move and Resist Bielefeld - Joliba

CISPM/Droits de Migrants et du Citoyen

=============

ARRÊTEZ LA GUERRE AUX MIGRANTS !

Manifestation à Berlin le 6 Février 2015 - Un an après le massacre de Ceuta
12:00 h de l'Ambassade d'Espagne - Lichtensteinallee, 1 - Tiergarten

7-8 Février Ateliers sur les politiques de Guerre de l'UE,
pour une plate-forme de solidarité transnationale des Sans-Papiers, Migrant(e)s et Réfugiés.

10:00 Mehringhof - Gneisenaustrasse 2 - Kreuzberg

Soutenez les Journées d'action de Berlin CISPM avec le crowdfunding:

https://www.betterplace.org/en/projects/24797-support-our-action-days-in-berlin-from-5th-to-8th-february-2015

Quatre jours d'événements et de commémoration, démonstration, ateliers en Février 2015 a Berlin, axés sur les différents aspects de la guerre de l'UE aux MIgrant(e)s, aux frontières extérieures, ainsi que la politique intérieure. C'est est une étape sur la voie de la création d une Plate-forme d'action transnationale des Migrant(e)s, des Réfugiés et Initiatives solidaires avec la CISPM/Berlin- Coalition internationale des Sans-papiers, Migrants, Réfugiés et Demandeurs d'asile.

Délégations de Sans-papiers, Migrants Réfugiés et Initiatives en solidarité de huit pays européens (Belgique, France, Grèce, Italie, Pays-Bas, Pologne, Suisse, Espagne) et la Tunisie viennent à Berlin pour prendre part aux événements. Contribution aux frais de voyage, l'hébergement et la nourriture doivent être organisées.

Événements de commémoration : le 6 février 2014, plusieurs migrants essayèrent, dans une action collective, de surmonter la frontière de l'enclave de Ceuta à travers la mer. La Guarda Civil espagnole, en réaction contre la tentative d'entrer sur le territoire de l'UE, tira sur les Migrants dans l'eau avec des balles de caoutchouc et avec du gaz lacrymogène. Au moins 15 personnes ont été assassinées à ce jour et 50 d'entre eux ont été portées disparus ! Des douzaines d'autres étaient blessées(e)s et refoulé(e)s illégalement au Maroc. Ici, vous pouvez regarder la vidéo de la démo de protestation et de deuil à Berlin du février 2014 :
https://vimeo.com/8777034

Un an après la CISPM/Berlin appelle à une MANIFESTATION INTERNATIONALE le 6 de Février 2015 a Berlin: arrêtez la guerre aux Migrant(e)s ! Aux frontières extérieures ainsi que dans les politiques des intérieures.

Ateliers de discussion sur la guerre de l'UE contre la MIgration le
7 Février 2015.
Ordre du jour proposé : 1. La diplomatie de guerre de l'UE, les accords internationaux : Dublin 3, les accords bilatéraux de la déportation, la militarisation du contrôle des frontières. Rhétorique humanitaire de l'UE, les "opérations de sauvetage dans la mer" et la politique des Visas.
Plainte contre l'UE pour les décès dans la Méditerranée. 2. Les politiques intérieures de persécution : Differents lois d'Immigration UE, exploitation structurelle du travail des Migrant(e)s illégalisées, stratégies institutionnelles pour la privation des droits: la Duldung en Allemagne, Sans-abri en Italie. Lampedusa à Hambourg, Lampedusa à Berlin.

8 Février : Assemblée conclusive pour la consolidation d'une Plate-forme d'action transnationale des Sans-Papiers Migrants et des Réfugiés.
CISPM - Coalition Internationale des Sans-papiers et Migrants: Voix des Migrants. Droits de Migrants, Caravan for the Rights of Refugees and Migrants

Avec le soutien de: Afrique Europe Interact - Borderline Europe - KUB - Move and Resist Bielefeld - Joliba
CISPM/Droits de Migrants et du Citoyen